The Most Reliable High-Dusting Services In Melbourne
High-height dusting is a task that can be performed only by professionals as it does require high-quality equipment to remove the dust and dirt at every tiny corner of your house or office space. DMD Cleaning offers the most reliable high dusting services across the suburb of Melbourne. Hard-to-reach areas such as pipes and beams require to be maintained cleanly but since they are situated at heights it often becomes a daunting task. DMD Cleaning offers the finest deep cleaning services offered by well-trained and well-skilled professionals and expert cleaners who are full-insured and can perform high cleaning services in any confined or challenging areas across Melbourne.
What Is Involved In Effective High Cleaning Services?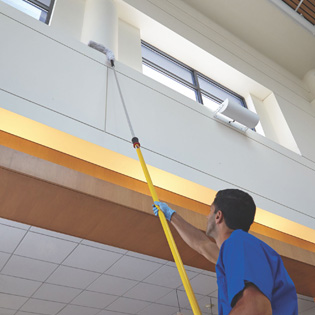 High window cleaning services – Being industry leaders in providing water-fed cleaning, we at DMD Cleaning ensure safe and cost-effective high cleaning for windows, irrespective of whether they are at any heights. Our high window cleaning services have revolutionized the cleaning services at heights across the suburbs of Melbourne. Our system has proved to be quicker than any other conventional cleaning methods and has helped in saving costs. We reduce the use of chemical ingredients and thus our solutions are eco-friendly in nature. DMD Cleaning facilitates high window cleaning services by cleaning window frames with the use of purified water technology for mark-free and scratch-free cleaning services.
High Dust Cleaning Services – High dust is undoubtedly a health hazard. DMD Cleaning makes use of intensive high cleaning solutions for hard-to-reach surfaces and corners to remove dust, cobwebs, dirt, and grime. Our high dusting services have improved air quality in the facilities we have worked with. DMD Cleaning utilizes extendable dusters and unique high-area access equipment to remove dust and dirt, be it for houses, schools, office spaces, restaurants, factories, warehouses, and any other facility.
High-Pressure Cleaning Services –DMD Cleaning provided expert professionals employed to perform high surface cleaning services using a wide array of state-of-the-art equipment such as scissor-lifts, cherry-pickers, abseilers, and other equipment to clean inaccessible places and surfaces. With our high cleaning services, the inaccessible, hard-to-clean, dirty, or greasy floors are brought back to clean and tidy spaces be it any commercial, industrial, or large-scale residential landscapes or spaces across Melbourne.
High Facade Cleaning Services – DMD Cleaning offers facade and structure cleaning services for all infrastructure and buildings. We employ a soft-wash cleaning technique to prevent the use of harsh chemical alternatives that can disrupt your facility. Here, we use lower pressure levels of water to deep clean building surfaces and enhance the neatness of the entire building structure and surfaces.
At DMD Cleaning, our well-trained staff is equipped to work in high-height areas without causing damage to your assets or environment. Be it any high cleaning services across the suburb of Melbourne, we at DMD Cleaning are your finest option. So, if you are looking out for cleaning specialists for your high-dusting requirements in Melbourne, drop us a call on 0449 721 600 or mail us at info@dmdgrp.com.au to get the most competitive rates! Call us today to avail the best offer!
FINDS US ONLINE KEYWORD: High Pressure Cleaning in Albert Park | High Rise Window Cleaning in Armadale| High Pressure Cleaning Services in Ashburton| High Pressure Cleaning Services in Ashburton| High Pressure Cleaning Services in Armadale| High Pressure Cleaning in Armadale
Affordable Cleaning Company Near You
At DMD Cleaning, we strive to make your premises look tidy and brand new with our exquisite cleaning services. So, if you are on the lookout for the finest and most affordable cleaning company near you, drop us a call at 0449 721 600 and we are at your doorstep. You can also mail us at info@dmdgrp.com.au to get your free quote. Grab yours today!